LAWYER ZORAN ZORBIC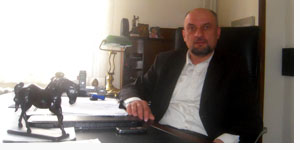 Founder and chief of "Zorbic" law firm is Mr. Zoran Zorbic, 38, a well-known lawyer from Belgrade, Yugoslavia. Mr. Zorbic graduated at the Faculty of law, Belgrade University, in 1989. Subsequently, he was a law clerk in distinguished Belgrade law firms. In 1991 he was recorded in Belgrade Bar Association register. That was the year when Mr. Zorbic founded his law firm and started his practice.

From the very beginning of its work "Zorbic " law office has been dealing with wide range of problems in the field of civil law. It had assembled a team of young lawyers who have given a great contribution to its development and success.
The years of work in protecting interests of their clients as well as experience in interpretation and application of legal rules resulted in specialization for certain areas of law.

These main fields of practice include:
- establishing new companies (with domestic, foreign or mixed capital), company registration
- license deals - operations in conjunction with licenses including technology transfers to and from the country
- foreign company subsidiaries - full scope of information and services in connection with setting up subsidiaries of foreign companies in Serbian Republic
- joint ventures/investments - economic and financial advice and consulting on all main aspects of such deals
- industrial property rights - legal advice as well as contacts with institutions in charge

During the years of practice "Zorbic" law office has largely widen its list of associate experts.
Thus, although primarily a law office it can provide information and consulting services in fields like: banking, investments, financial matters and other issues.
Feel free to contact us!
" Zorbic " law firm
Mr. Zoran Zorbic
director
office address:
Ljube Kovačevića 4, 11000 Belgrade, Serbian Republic
address for client:
Durmitorska 4a, 11000 Belgrade, Serbian Republic
phone/fax:
011 36 11 772
phone:
011 36 60 212
mobile phone:
064 119 60 40
e-mail:
adv.zorbic@yahoo.com
web site:
www.advokatura.co.rs